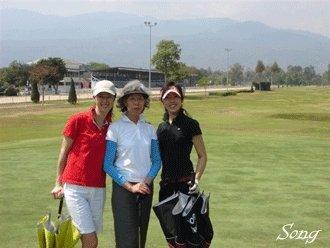 We opened GOLF WEAR SHOP in Chiang Mai in 1999 at the beginning, then the players have been increasing year by year.
Because special green fee, long experience, reliable guidance, strong connection to every golf course etc.
We supply the latest informations about condition of lawn, climate etc. Because we all love golf ! Anxious all the time.

We usually take you to local restaurants after play. Cheap and Delicious !
Hotels are available. Cheap, convenient location, center in the town.
Chiangrai golf tour and original sightseeing tours are goo! ( 1~3 days )
OUR BUSINESS RANGE

Golf play arrangement
Wholesale golf wears to pro shops
Sell, Buy and intermediate membership
Keep Caddie bags for chiangmai repeaters ( 100B/month)